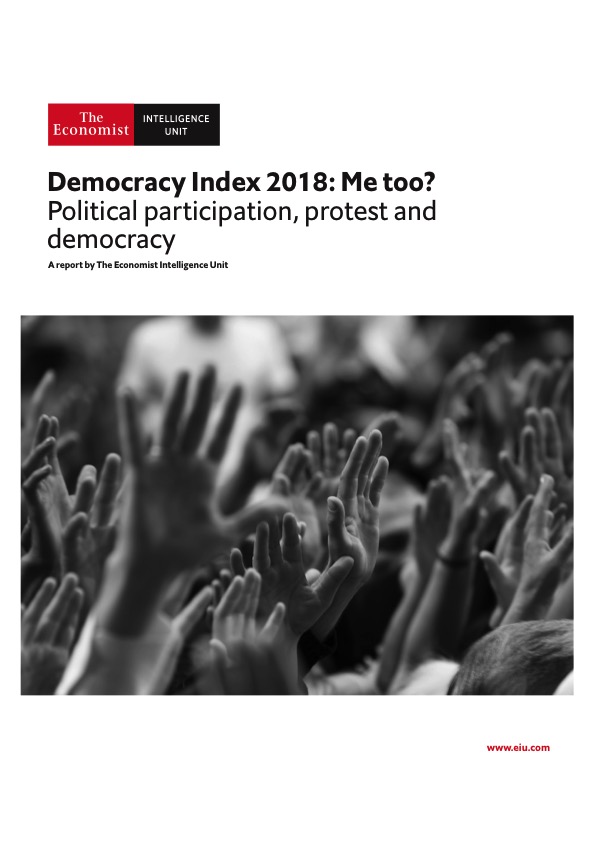 DEMOCRACY INDEX, 2018: ME TOO?
- POLITICAL PARTICIPATION, PROTEST AND DEMOCRACY
This is the 11th edition of the Democracy Index, which began in 2006. It records how global democracy fared in 2018. The results are mixed. For the first time in three years, the global score for democracy remained stable. This result disguises some movement across regions and across categories. One country, Costa Rica, moved from a flawed democracy to a full democracy; at the other end of the spectrum, one country, Nicaragua, moved from flawed regime to ...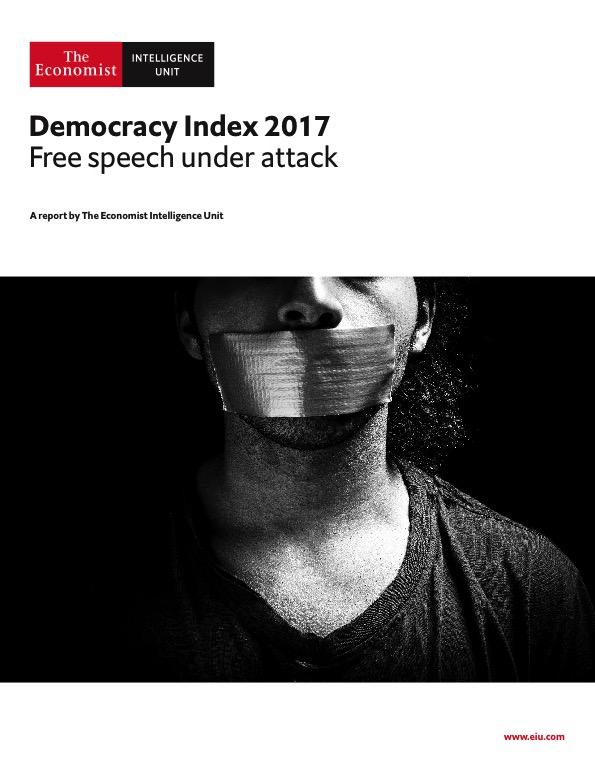 DEMOCRACY INDEX, 2017
- FREE SPEECH UNDER ATTACK
In the 2017 Democracy Index the average global score fell from 5.52 in 2016 to 5.48 (on a scale of 0 to 10). Some 89 countries experienced a decline in their total score compared with 2016, more than three times as many as the countries that recorded an improvement (27), the worst performance since 2010- 11 in the aftermath of the global economic and financial crisis. The other 51 countries stagnated, as …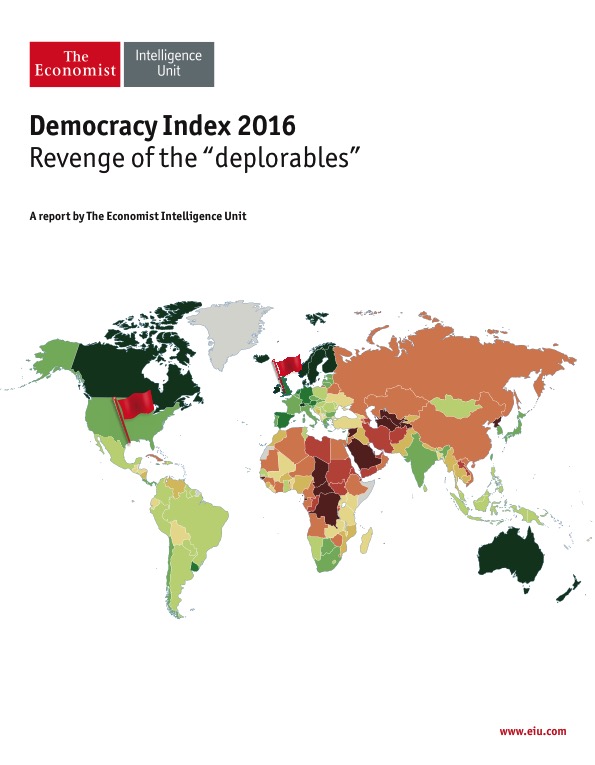 DEMOCRACY INDEX, 2016
- REVENGE OF THE "DEPLORABLES"
The title of this year's report refers to the popular revolt in 2016 against political elites who are perceived by many to be out of touch and failing to represent the interests of ordinary people ("political elites" refers primarily to governments, legislatures, state institutions and political parties, though it also encompasses the media, expert bodies and international organisations). It was a revolt that was …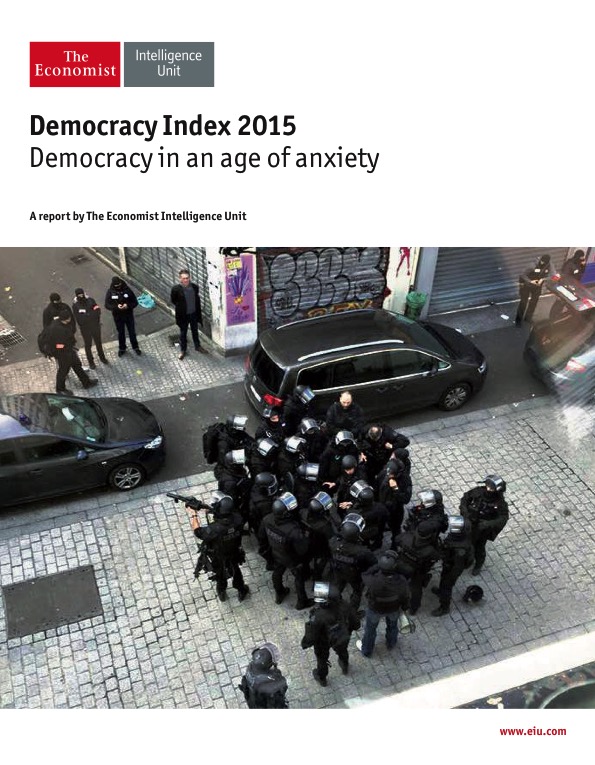 DEMOCRACY INDEX, 2015
- DEMOCRACY IN AN AGE OF ANXIETY
The title of this year's report reflects the threat to democracy emanating from the fearful mood of our times, which informs the reactions of ordinary people and political elites alike. An increased sense of personal and societal anxiety and insecurity in the face
of diverse perceived risks and threats—economic, political, social and security—is undermining democracy, which depends on a steadfast commitment to …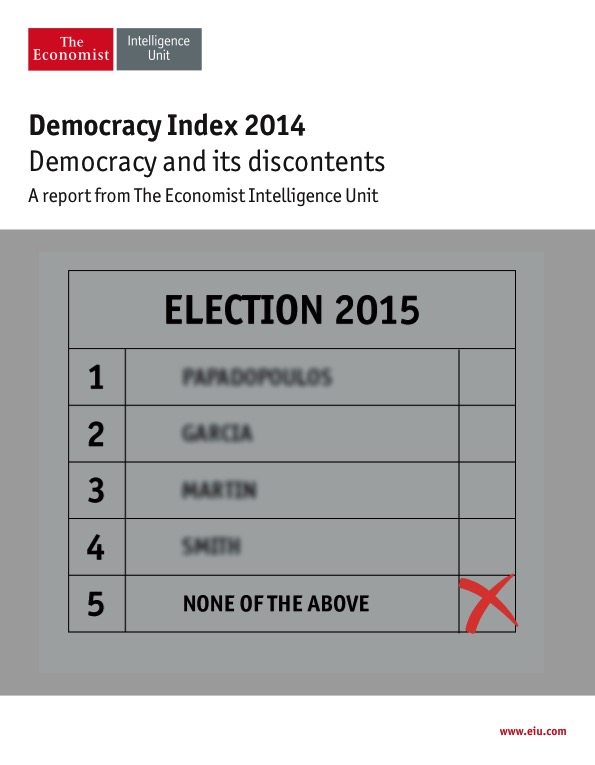 DEMOCRACY INDEX, 2014
- DEMOCRACY AND ITS DISCONTENTS
This is the seventh edition of the Democracy Index. It reflects the situation at the end of 2014,
a year in which democracy's discontents were on the rise. As has been the pattern in recent years, there was little change in the aggregate global score. The same number of countries (48) recorded an improvement in their score as recorded a deterioration; the remainder (71) retained the same score as …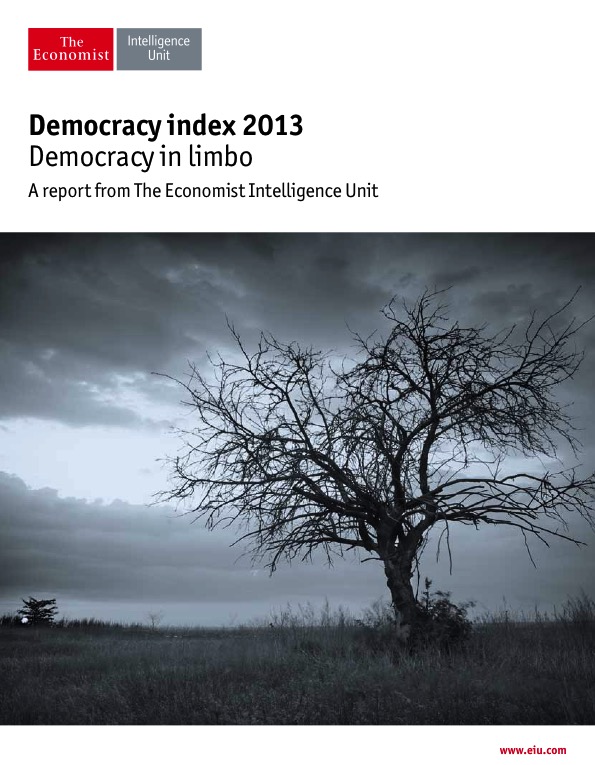 DEMOCRACY INDEX, 2013
- DEMOCRACY IN LIMBO
In 2013 global democracy was in limbo, in the sense that, as has been the pattern in recent years, there was little overall change–there was neither significant progress nor regression over the course of the year. Average regional scores in 2013 were similar to scores in 2012. The first edition of the index, published in The Economist's The World in 2007, measured the state of …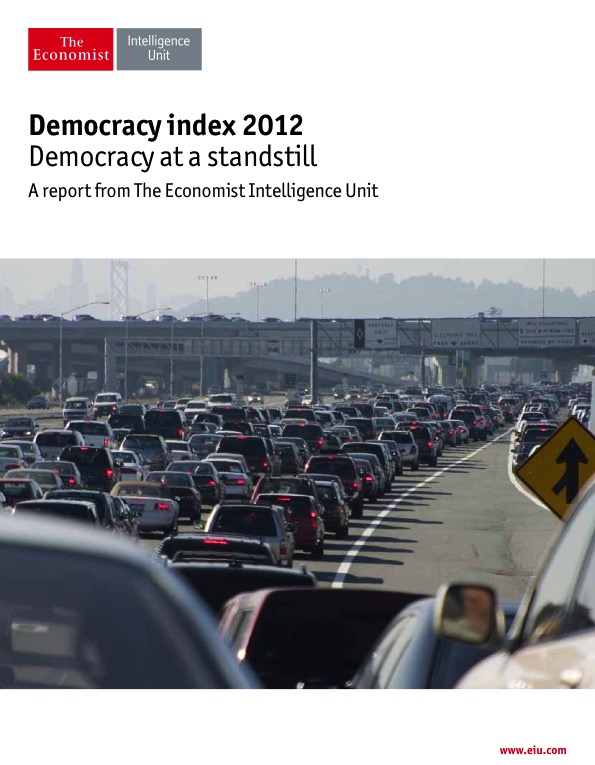 DEMOCRACY INDEX, 2012
- DEMOCRACY AT A STANDSTILL
In 2012 global democracy was at a standstill in the sense that there was neither significant progress nor regression in democracy in that year. (..) Following a regression in 2011, in western Europe in 2012 there was a stabilisation in democratic trends. In 2011 seven countries in western Europe suffered a decline in their democracy score; in 2012 none had a decline. The main reason for the earlier decline was …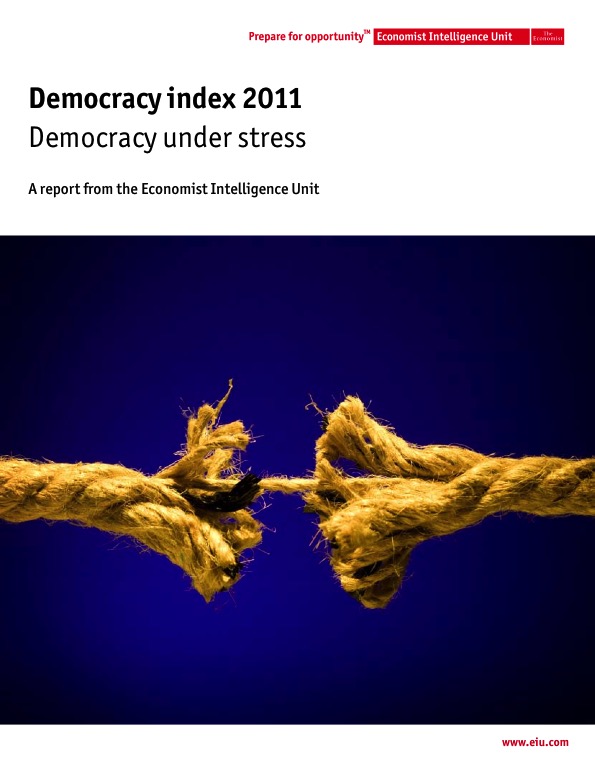 DEMOCRACY INDEX, 2011
- DEMOCRACY UNDER STRESS
2011 was an exceptionally turbulent year politically, characterised by sovereign debt crises and weak political leadership in the developed world, dramatic change and conflict in the Middle East and North Africa (MENA) and rising social unrest throughout much of the world. It featured important changes in democracy, both in the direction of unexpected democratisation and a continuation of ……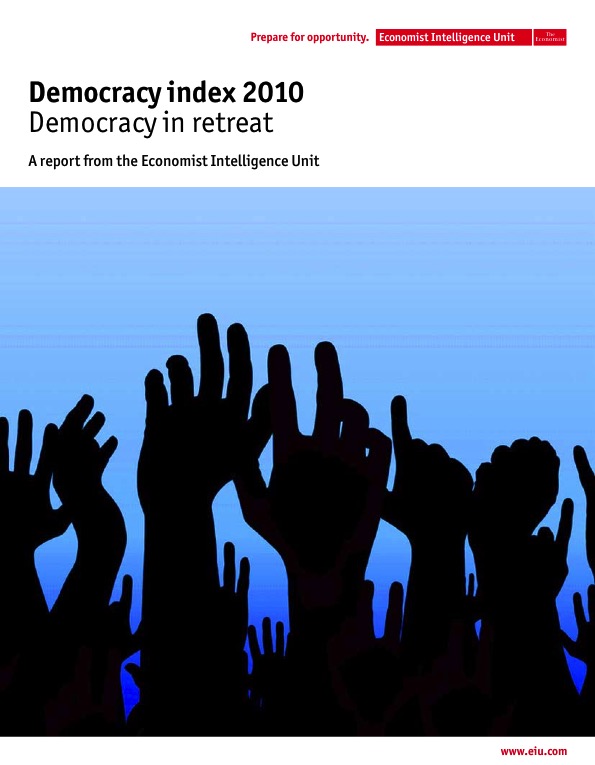 DEMOCRACY INDEX, 2010
- DEMOCRACY IN RETREAT
The global record in democratisation since the start of its so-called third wave in 1974, and acceleration after the fall of the Berlin Wall in 1989, has been impressive. According to the Economist Intelligence Unit's measure of democracy, one-half of the world's population now lives in a democracy of some sort. However, there has been a decline in democracy across the world since 2008. The decades-long …